I broke my rule last week about Jrod coming grocery shopping with me. It drives me nuts most of the time because he likes to go through EVERY aisle, I can not handle hour long grocery trips every week. Last week though, he was a genius super shopper and I now am rethinking him not coming with me. While shopping for basics he also planned almost two weeks worth of dinners! It was amazing, let me tell you! We are doing Eat in Month Challenge from The Chic Lifeand this fit the bill perfect!
One of his best finds was a HUGE rack of ribs for $2.80 (that is total not by pound!), now I have never had ribs before meat on the bone just freaks me out. He talked me into trying them, but I have to find him a rub recipe. Enter SteamyKitchen with the save! We made this amazing recipe from her and we weren't even half way through when Jrod declare we would be making these again.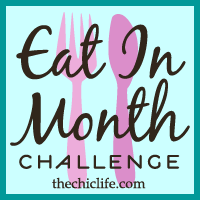 Here is the Recipe from Steamy Kitchen!
cayenne cinnamon baby back ribs with maple glaze recipe *click on link for printable version.
Servings: 4 Prep Time: 10 minutes Cook Time: 1 hour 10 minutes
Adapted from McCormick
You can use other rib cuts if you wish, I like St. Louis rib cut.
ingredients:
1/3 cup firmly packed brown sugar
1 tablespoon garlic powder
1 tablespoon paprika
1 teaspoon ground cinnamon
1 teaspoon cayenne powder (or crushed red pepper flakes)
1 teaspoon sea salt (or 1/2 teaspoon table salt)
3 pounds pork baby back ribs
1/4 cup maple syrup
directions:
1. Preheat oven to 375F (or prepare your grill). Remove the tough membrane from the underside of the ribs.
2. In a small bowl, mix together the brown sugar, garlic powder, paprika, ground cinnamon, cayenne and salt.. Place ribs on a double layer of tin foil (large enough to wrap around ribs) and season the ribs on both sides with the rub. Fold over foil and completely cover ribs. Place ribs on baking sheet or roasting pan.
3. Bake 1 hour or until meat starts to pull away from bones.
4. Turn broiler on to high and move rack to upper-mid position. Carefully open foil. Brush ribs with maple syrup. Broil ribs 3-4 minutes until browned. Take care not to burn the ribs!