This is my second year doing Diana's Eat in Month Challenge over at her amazing blog: The Chic Life.
Let me first tell you it's not as easy as it sounds, for me at least with Jrod always wanting to go out to eat! If he had his way we would eat out at least 3 times a week for dinner, that is on top of his 5 times a week for lunch! Yuck! I don't think that my stomach or pants could take that. I have found some great recipes for this month that I will be posting as I make them. Thank you Diana at TheChicLife and Jessica at HowSweetItIs for so many great ideas. The Dilled Pot Roast rocks my socks off, and tonight is Cayenne Cinnamon Baby Back Ribs with Maple Glaze. Yes, that just happened!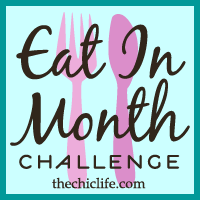 Here are the Rules along with Tips and Tricks from TheChicLife: click on this link to get to the main challenge page.
The Eat in Month Challenge Concept
Eat every single meal (breakfast, lunch, dinner, brunch, snacks…whatever you choose!) "in" to save money and eat better. (Hey, this may even fall in line with the New Years Resolutions some of you have made!)
How to Play
The most important rule is to tailor the challenge to fit you best. Can't play a whole month? Play one week or two. Still want to get coffees out? Go for it. We'll each have our own tailored version of the challenge, and that's great!
Here are the rest of the main guidelines, but again, adjust as you need…
Cook or prepare all meals at home.
Drinks – coffees to cocktails – decide whether these count in the challenge or not for you. Some people just focus on the food. Some people do both. Last year, I didn't go to Starbucks (not even for Starbucks Monday!) for EIM. But this year, I'm thinking I may still indulge in an occasional latte, especially since I only go about once a week.
If you're away from home for a meal, plan ahead and bring something from home with you (i.e. to work) to eat.
If you got it at a grocery store, it probably counts, unless you bought it at the grocery store cafe. The only exceptions to the cafe rule include: 1. if you create a side salad to accompany a meal you'll be making at home or 2. prepared meats, i.e. rotisserie chicken.
Grocery-store-prepared dishes are ok if they accompany a meal put together at home. We all have busy lives and taking help from the grocery store shouldn't be a crime. Example of acceptable use of grocery-store-prepped item: you want to eat sandwiches this week but don't have anything to go with them. You pick up some bean salad at the grocery store deli to go with your lunch. Another example: you want to make chicken salad sandwiches, but you don't have or want to buy all the ingredients. You buy grocery-store-prepped chicken salad, take it home, make sandwiches and enjoy lunch. NOTE: Personally, I feel that buying pre-pared side dishes, etc at the grocery store (esp at Whole Foods/Earthfare/etc) are sometimes healthier and more cost-effective than buying all the ingredients to make yourself. Why not use the help once in a while?
Frozen meals count (meals from scratch are better but frozen meals are still cheaper than eating out (more affordable meals and you don't have to pay tip) and can be actually cooked at home/work/etc.).
Challenge starts January 1, 2012 and ends January 31, 2012.
Play for a month if you can, or feel free to join for a week or two, or a day…whatever you can do.
Those playing for a month will get ONE cheat pass – one meal (not a day) you can eat out during the month of January.
Have a blog? If you'd like, post photos and/or descriptions of your meals. If you have a food blog, you very well may be doing so already! Remember, this is totally optional. I'll probably post most of mine, but that's because I'm the host of the challenge! I can't guarantee I will post photos of every single meal, but I will tell you guys if I cheat (which I won't do). If I did it last year, I can do it again!
If you're on Twitter, use hashtag #eatinmonth to check out updates from each other, get inspiration, request tips, offer tips, and help each other out.
I'll be posting tips and suggestions also on my Facebook page, so be sure to check that out often during the challenge month for updates.
Tips
Get your pantry ready – A lot of times, I have good intentions to eat meals at home, but after a long day of work, if I don't have any easy meals to whip up, I'm more likely to pick up the phone and order takeout. Having easy meals that come together quickly makes me more likely to put "pantry-meals" together instead of calling someone.
Click here to read my Eat in Month Pantry Tips + Ideas post
Have snacks ready – If I'm hungry at work, especially when there are lots of quick options around, it's easy for me to take a 15 minute walk to pick up a snack. By keeping snacks in my desk and in the office fridge, I can just nosh on those instead of seeking snacks elsewhere. Click here to read about my favorite snacks to keep at the office.
Plan ahead – Prep your pantry, create a meal plan for the week. If you have a meal schedule ready, you'll be more likely to stick to what you already planned ahead to prep/cook/eat. You'll probably also utilize those leftovers more efficiently, too!
Have quick meals in your back pocket – Go ahead and jot down 5-10 quick meals you can throw together using pantry & staple items. Use this list when you're hungry, out of energy, and out of time. Try to keep your pantry, fridge, etc stocked with a couple of the items needed for these quick meal so you'll always have something to eat when you're in a bind.
Keep it Simple – It's nice to try to cook fancy-schmancy meals every night, but if you're as busy as me, you just can't do it every day. Allow yourself to put together simple meals, even if it's heating up a frozen dinner. We know you may have better intentions, but just do the best you can while still being reasonable. Sometimes the simplest meals (spaghetti anyone?) are the best!
Make the better choice – Sometimes it's about making the better choice, not the perfect one. Click here to read my post on this topic.
Bulk Bins – Click here to read my how-to on working the bulk bins.